Vic Mignogna, best known for his english voice acting in Full Metal Alchemist and for Broly in the Dragon Ball series, has been dealing with multiple allegations of assault, homophobia and antisemitism for quite a while now (namely atleast since 2010) , however the issue rose to prominence after the debut of Broly when Bulma's voice actress Monica Rial went on to accuse Vic of harassment and indecent behaviour as well. (previous allegations have ranged from flirting, groping and even fondling female fans including minors)


Since then, others in the industry have also come out about their own harrowing experiences with Vic. Voice actor Jamie Marchi (Fruits Basket, Panty and Stocking with Garterbelt) also shared her own story about an encounter she faced with Vic. And by now atleast 30 different women have come out to accuse him of inappropriate behaviour.
The voice actor has responded to allegations by denying any explicit intentions and attempting to justify his physicality as part of his Italian heritage.
"Never in a million years would it be my intent to make anyone feel uncomfortable," he said. "Rather, [hugging fans] was meant to show gratitude or support. I come from an affectionately expressive family where such displays are commonplace. But I understand that not everyone feels this way."
Mignogna said he will end his physical interactions with fans. His full statement can be found below.View image on Twitter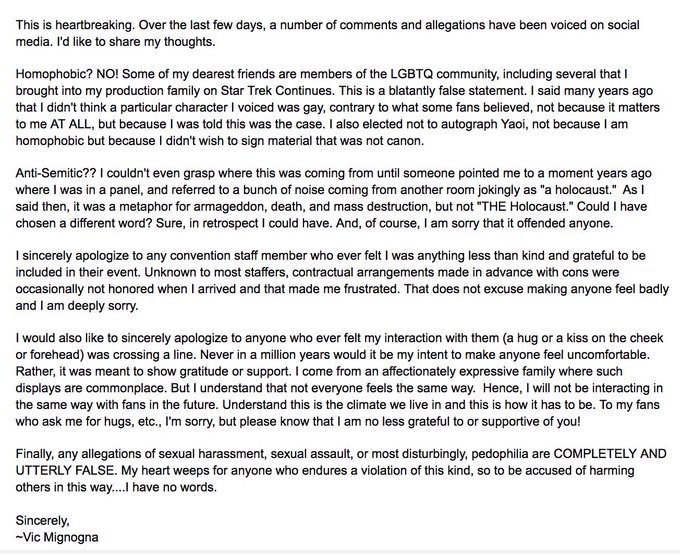 Leaked screenshots indicated that Vic responded to his fans and asked them to support him more openly to counter the accusations, and as a result a reactionary hashtag was made in his support but ultimately failed to gain popularity.
Although RWBY and Funimation have removed Vic, Fantasy Soft issued a public statement in his defense stating that "It Is Innocent Until Proven Guilty, Not The Other Way Around."